Nothing has had so much importance in lending to the general ambience of Madblood Manor than the "things" that grace every shelf, desktop, crack, and orifice in the good doctor's lab. This is a library of those "things," and their connection to why they exist on the set of Madblood Manor. Their origins can not only be traced to the twisted minds of the Madblood crew, but to his faithful viewers and fans----all of whom are obviously in creative sync with Madblood.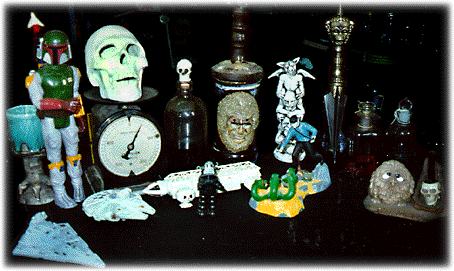 Doctor Madblood's desk sports the latest in mad science and twisted technology:
Beginning from the left with the green goblet/candle holder sculpture from the Monster Store in Norfolk, Virginia, an original Boba Fett from 1977, a genuine Pitney-Bones skull scale once used by Count Lacudra, a real South of the Border glass jug of Pedro's Monster Moonshine, a very heavy Madblood candle holder/butter churn made by a talented, but obviously crazed viewer, the Three Friendly Gargoyles statue, an original AMT model from 1968 of Mr. Spock blasting the b'jubies out of an innocent alien spinach plant, the actual Dagger of Dooldam used on the show, emergency bottles of Musk for Men cologne, and finally, an owl and pipe-holder sculture from another fan. In front from the left is an original 1977 Star Wars destroyer, an original 1977 Star Wars Millenium Falcon, an original 1987 Babylon 5 explorer, and finally, getting hit by pieces of splattering spinach plant, is Robbie the Robot from "Forbidden Planet."